We are inspired by our ever-increasing numbers of female participants taking on our Euro cycle challenges, our long-standing and incredible female cycling crew and, more recently, British Cycling's 'One in a Million' Campaign. As a result, we are introducing a female-only cycling series: Women Ride
WE HAVE ONE AIM: TO EMPOWER MORE WOMEN TO GET ON THEIR BIKES, SAFELY AND CONFIDENTLY.
As with the ethos of all of our challenges; this isn't a race or a competition. It is a safe, supportive and fun place to give cycling a go. We're hoping to provide women with an education on cycling, bikes and road safety through this series and inevitably help them to explore cycling as a part of their day-to-day lives.
Discover Adventure want to break down the barriers for women in cycling, support women to overcome the mental and physical hurdles they may face when out on their daily commute or the ride of a lifetime and help them to achieve, and be a part of, something incredible.
We want to live in a healthier, cleaner world, and for cycling to play a bigger part in our way of life and benefit our mental health - Women are at the heart of that. We will be there to provide support from the initial "I'll try it" to "I've got this" , aiming to showcase the fun, camaraderie and love of the outdoors that cycling provides.
THE ULTIMATE GOAL IS TO TURN SUPPORT TO SELF-RELIANCE, ACHIEVEMENT TO CONFIDENCE, AND ENGENDER A LOVE OF TRAVEL ON TWO WHEELS.
ALL RIDES IN THIS SERIES WILL PROVIDE THE FOLLOWING:
Experienced support crew riding with you

Support vehicles for safety and mechanic assistance

Check-points en-route with water and snacks

Well-designed routes on traffic-light roads

No time pressure, no competitive atmosphere

Advice on riding techniques and road safety

Advice on kit and training

Get your girls together for a fun day out or sign up solo and meet like-minded women on our incredible rides.
Check out your choice of challenges from the series below.
Women Ride Taster Ride - October 2019
Free 30-mile supported ride

Quiet roads in beautiful Wiltshire scenery

Advice from experienced leaders

Enjoy the ride and the camaraderie

Sample the level of support provided on multi-day rides


Women Ride Training Weekend - May 2020
All the benefits of the Taster Ride, plus:
Two different training rides: choose one, or both

Hone cycling techniques and gauge your fitness

Simple mechanics sessions to increase your confidence

Next step to multi-day challenge rides

Included in cost of Women Ride London to Paris and Women Ride London to Bruges


Women Ride London to Paris - July 2020
Classic cycle between two capital cities

Beautiful rural scenery and small villages

Pass iconic Paris landmarks; finish beneath Eiffel Tower

Ride on quiet roads and greenways

Free time to celebrate in Paris


Women Ride London to Bruges - September 2020
Three countries, three days of cycling

Spectacular day crossing islands and sea-barrages

Very scenic ride, with sand-dunes, windmills and canals

Ride on fairly flat cycle paths and quiet roads

Time to explore wonderful Bruges


keen to get the wheels in motion?
Hands up if you want to get involved in one of the cycle challenges from this spectacular series!
If you're keen to get started, fill in the form to be added to the mailing list and book your place on the ride that catches your eye.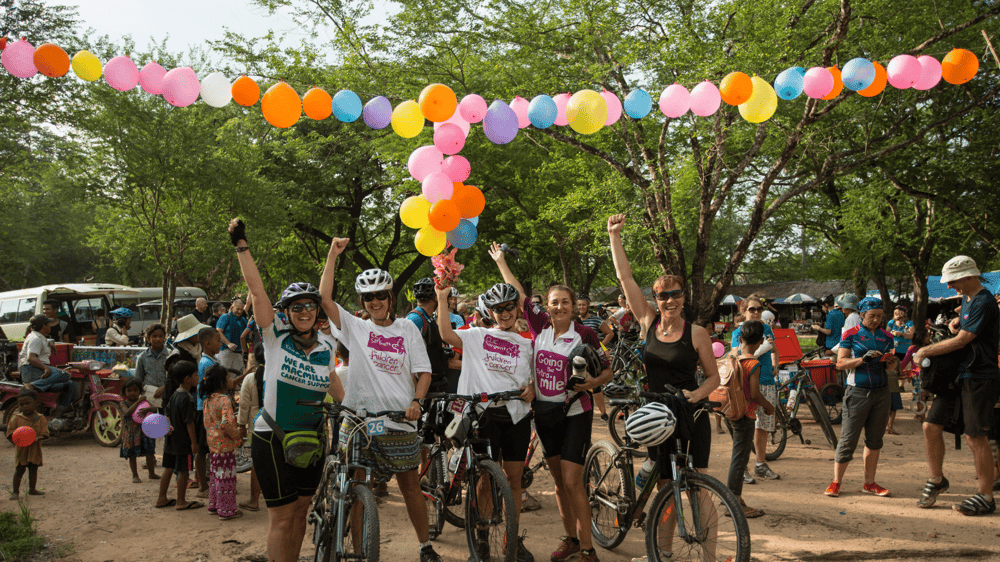 Register Your Interest